actually my little cousin kinda helped me find it...she txted me and told me that she found me on google. i was like 'j'what?' and she told me that she googled 'jeanna hillman butler basketball fan' so i did. the first result was something off of a blog...and i was like 'shit.' the blogger decided to have a little caption contest of this particular photo of me painting myself because he thought it was the 'ap photo of the day.'
here were the comments...
"APhoto of the Day — 2/29/08
Posted by DFO at 5 p.m. on February 29 Comments (0)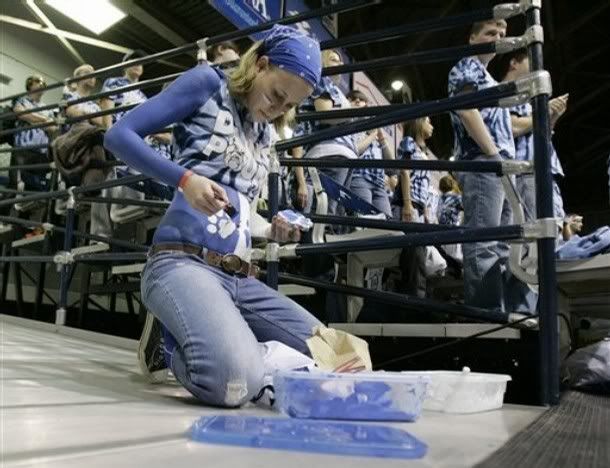 Butler Bulldog fan Jeanna Hillman paints Bulldog footprints on her stomach before the start of a college basketball game against Wright State in Indianapolis, Thursday. You write the cutline. (AP Photo/Darron Cummings)
Top Cutlines
1. In her final act of desperation and plea for male voter support, Hillary hires young Monica to recreate the infamous stained blue dress incident at her last campaign rally! — Damn Yankee.
2. Obviously not in the Wright State of mind, Jeanna can't stomach the game, telling her parents the Butler did it — John Austin.
3. After the game, Jeanna was immediately offered several exciting positions, including Intel spokeswoman, professional cheerleader, and fraternity house tub toy — Brent Andrews.
HM: ThomG"
here is the actual link:
http://www.spokesman.com/blogs/hbo/2008/feb/
creepy...just goes to show you that the internet is simply creepy.